"Maybe that's why #'s are so low."
WHAT SHE SAID
"Really hoping for some good ol' Easter songs we could sing. Maybe that's why #'s are so low."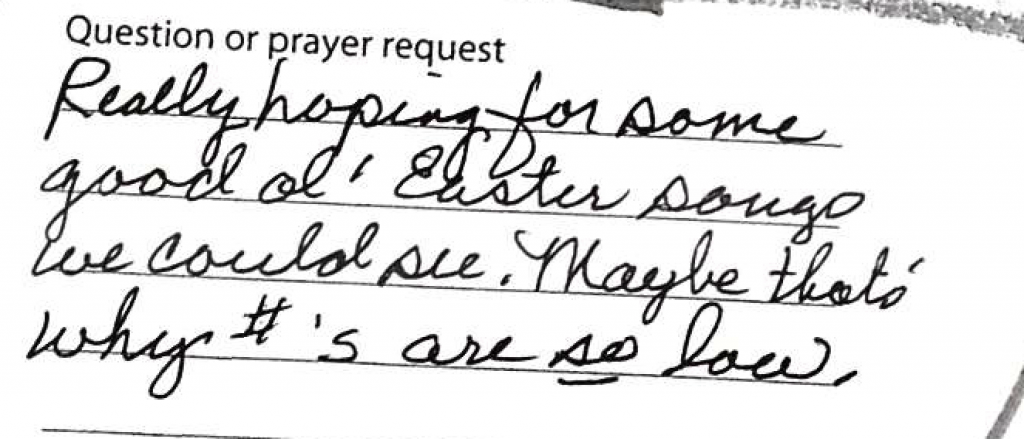 WHAT I WANTED TO SAY
"Dear Sassy Sally. Thank you so much for your question or prayer request. I couldn't agree more. Our selection of Christ the Lord Is Risen Today (1739) was likley too modern — and our creative commitee can't believe we didn't recognize this has been cause people to not show up on Easter. We are immediately changing directions this year with some truley good ol' music. Our opener song this year will be the 11th century #1 Easter-hit Victimae Paschali Laudes. Please invite your good ol' friends to Easter service this year. This will certinaly help increase the number of people who deeply care about the selection of music carefully selected to boost our attendence. Can't wait to drone with you this Easter! — Pastor Prune"
Instead this reply is better…
Thank you so much for your note. I appreciate your enthusiasm for incorporating your preferred Easter songs into our worship. We'll certainly take your suggestion, as well as others, into consideration as we plan our upcoming gathering. If you have any specific songs in mind, feel free to share them. Our goal is to create a meaningful and uplifting Easter celebration for everyone, including you!

PS – If you are planning on inviting friends to the Easter service who normally do not attend, please don't hesitate to find out what specific music that might connect with them and let us know as well!
The Rev Billy Graham also agrees…a free supportive resource to share with others.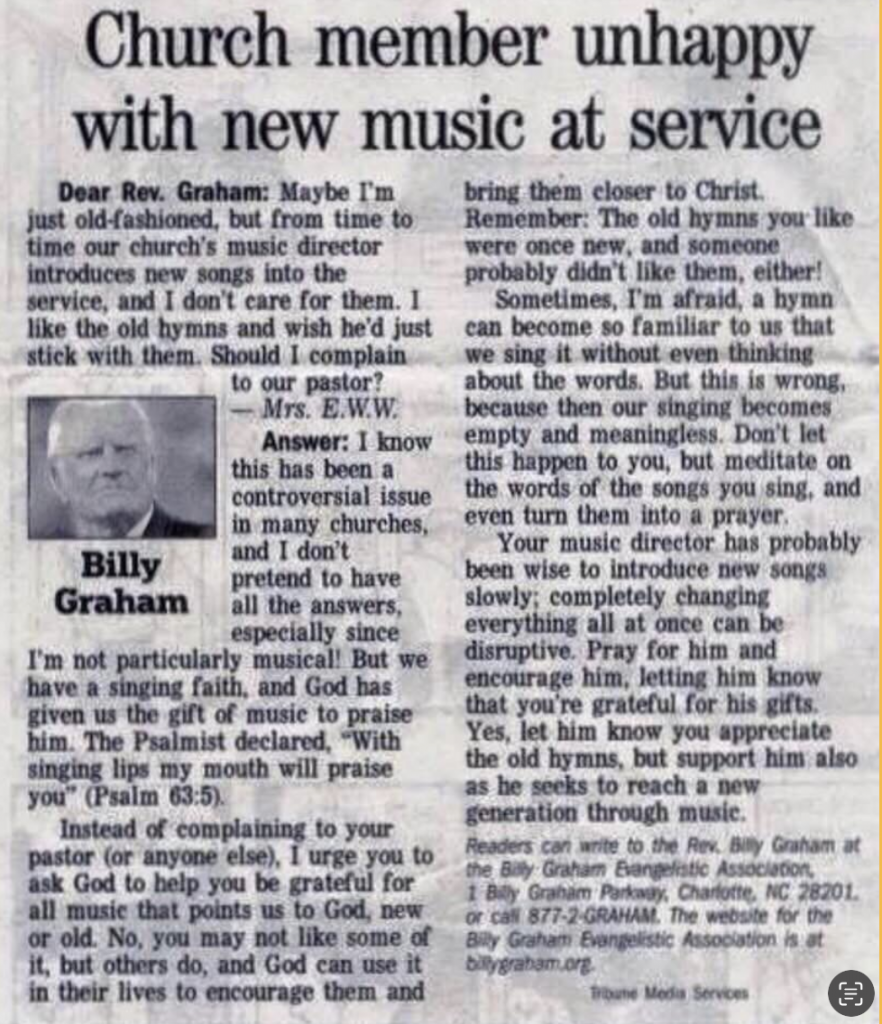 Dear Rev. Graham: Maybe I'm just old-fashioned, but from time to time our church's music director introduces new songs into the service, and I don't care for them. I like the old hymns and wish he'd just stick with them. Should I complain to our pastor? – Mrs. E.W.W.
Answer from Rev. Graham: I know this has been a controversial issue in many churches, and I don't pretend to have all the answers, especially since I'm not particularly musical! But we have a singing faith, and God has given us the gift of music to praise him. The Psalmist declared, "With singing lips my mouth will praise you" (Psalm 63:5). Instead of complaining to your pastor (or anyone else), I urge you to ask God to help you be grateful for all music that points us to God, new or old. No, you may not like some of it, but others do, and God can use it in their lives to encourage them and bring them closer to Christ. Remember: The old hymns you like were once new, and someone probably didn't like them, either! Sometimes, I'm afraid, a hymn can become so familiar to us that we sing it without even thinking about the words. But this is wrong, because then our singing becomes empty and meaningless. Don't let this happen to you, but meditate on the words of the songs you sing, and even turn them into a prayer. Your music director has probably been wise to introduce new songs slowly; completely changing everything all at once can be disruptive. Pray for him and encourage him, letting him know that you're grateful for his gifts. Yes, let him know you appreciate the old hymns, but support him also as he seeks to reach a new generation through music. – Billy Graham